"ABOUT US"
I was born in Northwich, Cheshire in 1952 – the younger of two girls.
My parents were both heavily involved in the Methodist Church and up until the age of 16yrs – so was I.
Up until the age of 11, I was educated at a private school.
I then entered a Secondary Modern school where I achieved 5 O- Levels. These results took me onto further education at a Sixth Form College.
I left the Sixth Form College having failed my A Levels – but - I did meet John on my second day there – and we married in 1974.
After leaving school I worked in a Branch of The National Childrens Home as an Assistant Housemother. This was a job that I really enjoyed and it gave me my first experience of living away from home. But when it was suggested to me, that I to go to London to train as a House Mother, I realized that I was also being "asked" to commit myself (for the next few years) to the NCH and the children in its care.
At the age of 20 and already engaged to be married – this was not a commitment that I could make. So being an "all or nothing" sort of person – I sadly - came to the conclusion that it would be best to leave the NCH altogether.
I then worked in two different Livery Stables for two or three years, and then worked with my mum in her Childrens Wear shop.
By this time – John had left his job as a photographer for a local paper and started his own freelance photography business. When Mum closed the shop, in the mid 80s, I began to work with him. Together, we expanded the photography business to include a picture framing service.
That explains a little about me – but the "us" in the title refers to a growing number of Spirit energies who have worked with me over many years and although – in their capacity as individual Guides to me – they have moved on – I am still able to draw on their teachings – and most fortunately – request their help if needed.
The "us" team begins with a very plain speaking Guide called William and my uncle in Spirit - Armon – who has been protecting and guiding me since early childhood.
When I made the commitment to the Spirit World to work as a Medium, Armon and William "handed me over" to four Native American Indians.
n.b. The full accounts of this story and much of their Communication is written in my 3 books: "More Friends Than You Know" –
"Spirits In The Sky" and "Spirits Fly High"
All the hours I have spent being trained by these Guides and Doorkeepers (protectors) is very precious to me.
Individually they have brought their own unique way of working and have facilitated my many experiences in communication – Spirit Release and Rescue – Land Clearance – Distant healing and Healing into death.
Over the years, they have introduced me to many helpers, Guides and Angels.
My Guide Silver Cloud once assured me when I asked yet another question that began with the words "Can you tell me?" - answered with the words – "I know a man who can." and raced off to find him!
In the Spirit World, everything and everyone is connected by a Universal link – just as we are here in the physical world.
This natural connection and fluidity has been proved to me time and time again as each loved one and Spirit Guide has come into my life and passed through – making space for my next learning to occur.
Each learning – an expansion of the former.
Nothing escapes their notice and their observations are passed from one to the other via the Universal link.
Having the ability to communicate – even for a nanno second – with that Universal energy – is indeed a privilege.
"Power and resolve are the foundation of strength.
Knowledge and Wisdom give you the power."
Mr "Shush"
Channeled by Lynn Quigley.
**********
Lynn has always lived with at least one dog throughout her life.
Jack and Jill were brother and sister.
Sadly – Jack died in November 2003 - after a short and courageous battle with stomach cancer. His "wellness", (after diagnosis) confounding the vets who looked after him. Jill lived a happy and full life for the next 6yrs until the Christmas of 2009 – when the rigours of old age began to take their toll.
Sadly –
Jill was put to sleep on the 23 February 2010 - aged 15yr 3 mths.
These two unique twins leave behind them – very happy memories and lots of joy.
Joy and happy memories that will be recalled over and over again - as time heals over the huge hole that they have left - in the lives of Lynn and her husband John.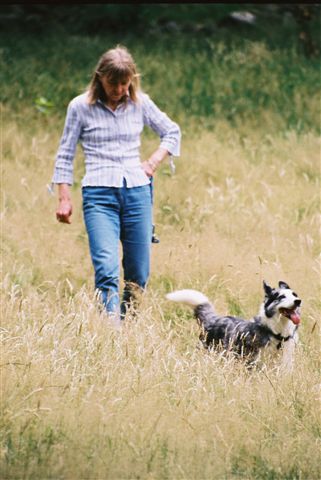 Lynn With Jill 2008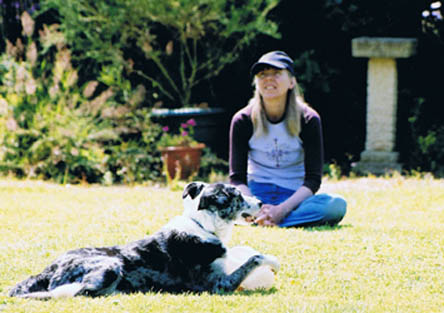 And with Jack August 2003

For those of you who have read or seen my books, you'll know there is a photograph of Davenham Parish Church on the front cover of "More Friends Than You Know"

The village of Davenham holds special memories for me as it must do for others, so for anyone interested in history, I've included here a photo' of the church taken in 1898 and by clicking on the image or the link beneath it a small gallery of historical pictures of Davenham will open on a new page for you.

In the gallery there's also a "search button" which you can use to locate "old photos" of other towns and villages.... Maybe where you live yourself?

Reproduced courtesy of Francis Frith.
If you are interested in the Francis Frith Site you may also like to look at www.cc-publishing.co.uk, a small family team of professionals based in Cheshire (UK), each with over 25 years experience in journalism and publishing, who guarantee a friendly, personal service whether you're purchasing from CC Publishing Books Direct, joining the Author's Service, or looking for a local publisher to develop your work.
(on the same site they have a great Free-To-Access on-line
"Cheshire Magazine")